Kim Jae Wook 김재욱 Profile Overview
A well-maintained body and looks that will make you give him a second look if you happen to pass by on him in a street, Kim Jae Wook 김재욱 -- another oppa or probably at an age that's gotta pass the level of Ahjussi is famous for numerous fangirls in various ages. Here are some of the trivia about him that you must know!
Background Highlights
Birthday: April 2, 1983
Place of Birth: South Korea
He speaks Japanese fluently
He is a musical actor and a part of a band
Early Years
When he was still a baby, his family migrated to Japan because of his father's work as a journalist who turned into a foreign correspondent. He, later on, came back to South Korea when he was eight years old. However, during that time, Kim Jae Wook hardly speaks Korean.
He started his proper learning of Korean language and culture when he entered Elementary school. Adjusting to the Korean school system, he had a hard time adapting to the change. In high school, he shared his skills by joining class activities including school bands. During his freshman year at Dandae High School, he auditioned for 'Kaksital,' and eventually became a member.
First TV Appearance
Kim Jae Wook first appeared on the show "Akdong Club" of MBC TV, reality shows that behind the scene of how an idol group is made. In the show, there was a high school student who auditioned and among the students include Kim Jae Wook as a contestant.
One of the most memorable parts of it is when the host eventually asked Kim Jae Wook if he performs a song and dance number in an idol group style aside from his signature rock music one. With no hesitation, he gave a 'no' as an answer and eventually gave up on the audition.
Modeling Career
Kim Jae Wook first walked the runway when he was in his sophomore year. Aside from that, he started as a model for fashion magazines like the 'Yuhaeng Tongshin' but at the same time, he still enjoys his music career especially when he is with his band. Later on, he published a book with four female supermodels in Korea and the book was entitled 'Top Model.'
Music Career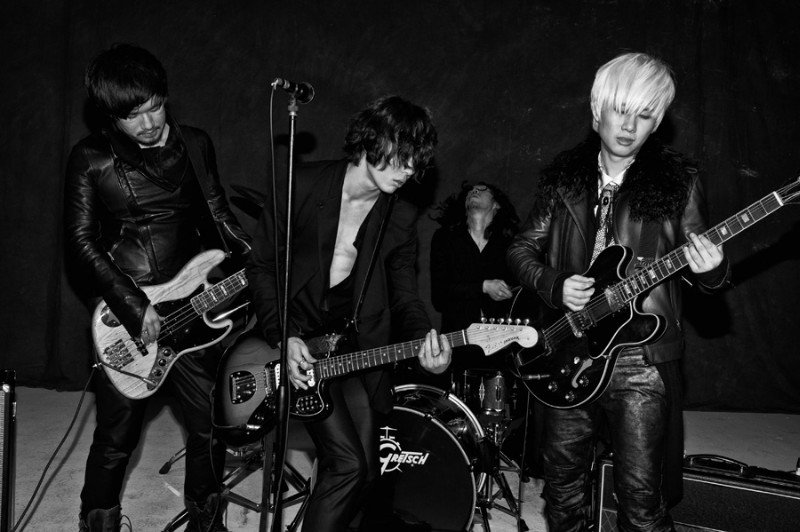 He entered the Seoul Institute of the Arts and majored in music. During his stay at the institute, he created a three-man team rock band named 'Walrus.' The name of the band rooted from the song of Beatles 'I am Walrus.' Given that the group is created through passion, they are still actively creating and performing every time the group members have free time to jam together.


First Acting Break
It was in 2002 where a PD from MBC named Park Sung Soo advised Kim Jae Wook to become an actor and at the same year. he entered the TV drama entertainment industry through the drama "Ruler of Your Own World," doing and acting as a member of an indie rock band, something that isn't so new to him. As he had a hard time on his first acting role, it took him five years before he went back on screen through the drama 'Dalja's Spring.'



Breakthrough in the Entertainment Industry: Coffee Prince (2007)
Part of the trio that has been coined "꽃미남 프린스" - meaning literally "Handsome Flower Princes" and the role of Kim Jae Wook as Noh Sun Ki is the mysterious tyle Japanese speaking guy who cooks and sells waffles! Coffee Prince has been tagged one of the most popular Korean dramas during its year and a classic-gender bender story that everyone loved.
Movie Actor Career
Having a not so typical role, his acting debut in the movie industry started through a film entitled 'Antique' wherein he played the role of a patissier that widely renowned but is a homosexual at the same time. Even though he displayed a nice character to it, he admitted that he had difficulties in portraying the role naturally.


Kim Jae Wook in a musical
'Hedwig and the Angry Inch' is a musical wherein Kim Jae Wook played the role of Hedwig, where he does a lot of cross-dressing but still managed to perform so manly on stage doing a lot of rock music! You can watch some of his performances on Youtube and we bet that it wasn't something that you expect!
Here's a list of Kim Jae Wook's Movies
Movie Title: Butterfly Sleep (2018)
Chou no Nemuri (蝶の眠り / 나비잠)
Role: Chanhae
Movie Title: Another Way (2017)
Dareun Gili Itda (다른 길이 있다)
Movie Title: The Last Princess (2016)
Movie Title: Two Rooms, Two Nights (2016)
Doo Gaeui Yeonae (두 개의 연애)
Movie Title: Planck Constant (2015)
Peulrangkeu Sangsoo (플랑크 상수)
Movie Title: C'est si bon (2015)
Movie Title: Antique (2008)
Seoyangkoldong Yangkwajajeom Aentikeu (서양골동양과자점 앤티크)
TV Movie Title: Drama Festival 2014: 4teen (2014)
Here's a list of Kim Jae Wook's Drama Series
Geunyeoui Sasaenghwal (그녀의 사생활)
Role: Ryan Gold
Channel: tvN
Drama Title: Quiz from God: Reboot (2018-2019)
Shinui Kwijeu Ributeu 신의 퀴즈 리부트
Role: AI Joo-On (ep.16)
Channel: OCN
Drama Title: The Guest (2018)
Son: The Guest 손: The Guest
Role: Choi Yoon
Channel: OCN
Drama Title: Temperature of Love (2017)
Sarangui Ondo 사랑의 온도
Role: Park Jung-Woo
Channel: SBS
Drama Title: Voice (2017)
boise 보이스
Role: Mo Tae-Goo
Channel: OCN
Drama Title: Inspiring Generation (2014)
Gamgyukshidae: Tooshinui Tansaeng 감격시대 : 투신의 탄생
Role: Kim Soo-Ok (ep.1-8)
Channel: (KBS2)
Drama Title: Who Are You (2013)
Who Are You 후아유
Role: Lee Hyung-Joon
Channel: tvN
Drama Title: Marry Me, Mary! (2010)
Maerineun Uibakjoong 매리는 외박중
Role: Jung-In
Channel: KBS2
Drama Title: Bad Guy (2010)
Nabbeun Namja 나쁜남자
Role: Hong Tae-Sung
Channel: SBS
The Land of the Wind (2008-2009)
Baramui Nara 바람의 나라
Role: Chu Bal-Su
Channel: KBS2
Drama Title: Coffee Prince (2007)
Kapi Peurinseu 1hojeom 커피 프린스 1호점
Role: No Seon-Ki
Channel: MBC
Drama Title: Dalja's Spring (2007)
Daljaui Bom 달자의 봄
Role: **Kim Jae Wook**
Channel: KBS2
Drama Title: Ruler of Your Own World (2002)
Ne meotdaero haera 네 멋대로 해라
Role: **Kim Jae Wook**
Channel: MBC